Maithilee K. Pathak, Ph.D., J.D.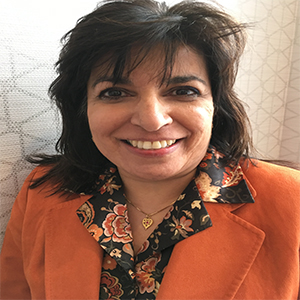 Office: 770-205-9270
Cell: 404-964-5879
Fax: 877-301-4668
Email: mpathak@rd-ss.com
Maithilee K. Pathak, Ph.D., J.D.

Dr. Pathak has worked on civil cases involving issues of tort, contracts, product liability, and malpractice, as well as on civil and criminal cases relating to fraud, anti-trust, and domestic terrorism. She has delivered CLE presentations on a variety of topics including medical malpractice, employment law, and premises liability. Dr. Pathak has conducted research on human decision-making in law and policy arenas.
Recently, Dr. Pathak worked in conjunction with the South Carolina Defense Trial Attorney Association and The Hood Law Firm on Trial SuperstarsTM to conduct a demonstration mock trial in which top attorneys in the state battled on behalf of their clients in a medical malpractice case with a twist. CLE participants watched openings, witnesses, closings, and jury deliberations. Dr. Pathak used R&D's real time response technology and online jury research tools to discuss what jurors thought was important and effective in the presentations, and how attorneys might hone their trial strategies in future cases.
Education
Ph.D. (Social Ecology); University of California Irvine
J.D., University of Nebraska – Lincoln
M.A. (Social Ecology); University of California Irvine
B.A. (Psychology); University of California Santa Cruz
Prior Experience
Senior Research Associate, DecisionQuest, Inc.
Consultant, Scientific Resources for the Law
Lecturer, Psychology and Law Department, University of Nebraska – Lincoln
Lecturer, School of Social Ecology, University of California – Irvine
Selected Publications and Presentations
"When Do You Want to Know Jurors Hate Your Case? Before or After the Trial?,"
"The Doctor's Dilemma Before Deposition: To Be Or Not To Be Me? How Can You Help Your
Deponent Do Both?,"
Honors and awards
Phi Beta Kappa
National Institute of Mental Health Post-Doctoral Fellowship
National Science Foundation Dissertation Award
National Institute of Justice Dissertation Award
American Psychological Association Minority Fellowship Program
Professional Memberships
American Psychology Law Society
American Society of Criminology,
Society for the Psychological Study of Social Issues